A Landing Page is a web page that is designed with a single focussed objective, also known as the CTA. These landing pages are designed for paid traffic and have a well-defined objective. For example, your business is about Health food. You can have a Captivating PDF that has the title" sumptuous fat burning food recipe" on your Landing page in exchange for a visitor's e-mail address.
Website traffic is a vital statistic to gauge your online presence. Marketers spend much time driving traffic to your site, but if this traffic does not get converted into sales, then they are whiling away their precious resources.
A high converting landing page can be the foundation of a successful online business. The two primary goals of marketing- attaining traffic for a site and then converting them seem to be a lot easier in 2020. There are plenty of tools available to manage and optimize your Landing pages now.
Unlimited avenues help drive traffic to your site, and landing page builders help you set up a landing page for your site in no time!
A landing page helps you dive into the sales funnel. It effectively taps a visitor's particulars via a CTA or enticing offer and uses the tapped information when you launch a particular product or service.
Landing page builder Tools 2020
The year 2020 is marked as a digital era and has simplified the complexities involved in developing highly converting landing pages for your business. Webmasters have an unlimited number of page builder tools to choose from. The task of choosing the most appropriate tools requires consideration. We have come up with a few tools, and as we go through their merits, demerits, and pricing, you can have a fair idea of which tool will work best for your business.
1. LeadPages
In the era of flexibility and performance, LeadPages lays the groundwork to improve and innovate at a swift pace.
Merits
LeadPages emphasizes on well-designed templates with a rich collection of 156 templates.
You can add different elements to various sections of your page.
You can move the CTA to a different spot.
You can add a countdown timer for an event.
Make adjustments to the layout of your page.
You can add a video or image to your page.
You can move each section and individual elements to adjust the flow of information.
The Leading page remains mobile-friendly irrespective of all the changes and looks good on all the devices.
You can add a variety of widgets and layout elements.
Provides Drag and Drop functionality to help you align your page.
It lets you engage with your visitors better through social likes and comments.
Special timing control feature allows elements to appear n the screen after time delay making the pages more dynamic.
HTML/Javascript widgets help you add maps, calendars, calculators, menus, and much more.
LeadBoxes can also be customized by rearranging, videos, countdown timers, and custom widgets.
Demerits
Only the higher tier plans support e-mail triggers, A/B Testing, and specific integrations.
Lacks Personalization.
Lacks Enterprise-Gradee security.
Several plans offer low-tier support.
Pricing
Standard Plan – $25/month
Pro Plan – $48/month
Advanced Plan – $199/month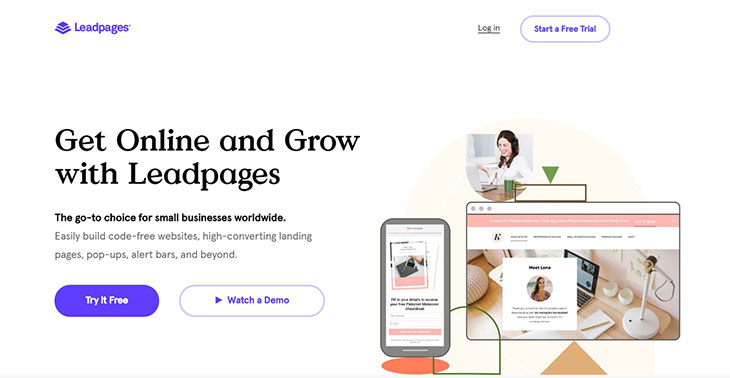 2. Instapage
Instapage facilitates the process of developing fully optimized landing pages, which integrates with your existing stack of tools in less than ten minutes. You do not even need a developer for this!
Merits
Post- click pages can be created and updated within minutes.
The review process is streamlined with Real-Time Collaboration.
Precise design features ensure compliance with your brand.
Customizable forms help generate more leads.
More than 200 customizable templates.
Instablocks provide drag and drop functionality.
Provide Pixel perfect designs.
AMP pages can be launched right on the platform.
Seamless integration with your marketing stack.
Seamless integration with other platforms.
Demerits
AMP and Web Personalization are offered only on the Enterprise Plan.
The Enterprise Plan is costly.
Pricing
Core Plan – $99/month
Enterprise Plan – Custom Quote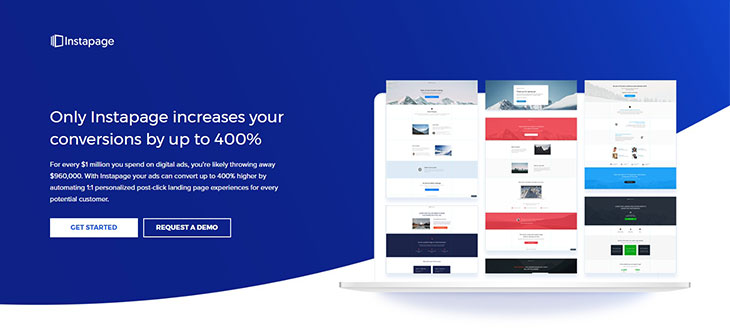 3. Clickfunnels
ClickFunnels is an excellent landing page builder tool for entrepreneurs with little or no prior experience in coding. Beautiful pages can be built within a matter of seconds, which convert your visitors into leads and then into buyers.
Merits
It provides you with a simple drag and drop webpage editor.
Very easy to use.
The three main goals are generating leads, generating sales, and running an event online.
Helps building sales funnel that help quickly in the conversion process.
It provides you with a smart shopping cart with a single click upsell.
Marketing through e-mails and Facebook is automated.
A simple Dashboard helps you keep everything organized.
Provides A/B testing.
Demerits
ClickFunnels offers less customization than other than many other landing page builders.
Regardless of where the tool is installed, the Landing page looks like that of ClickFunnels.
The tool has fewer features than Enterprise-grade software.
Pricing
Startup Plan – $97/month
Etison plan – $297/month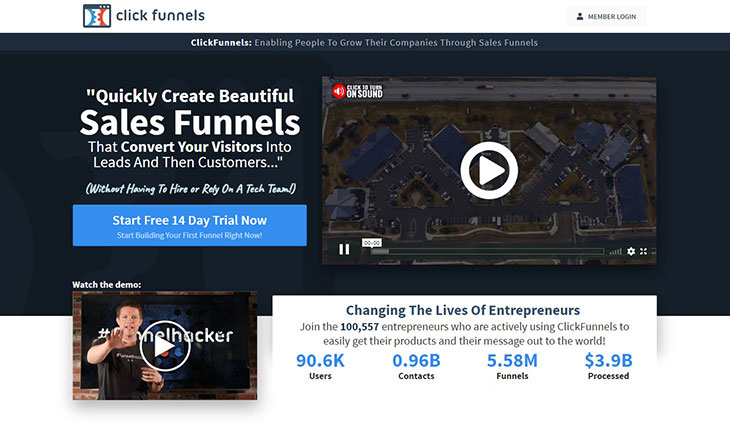 4. Unbounce
Unbounce focusses on three main avatars of business, namely eCommerce, SAAS, and marketing agencies. It focusses on intermediate to advanced marketers and has a rich set of features.
Merits
The landing page optimized for high conversion rates by displaying stick bars and targeted popups.
Compliments your other marketing tools by sending the collected data to the software used by your marketing team.
The tool allows seamless integration with the most popular CRM's, analytics platforms, and e-mail software.
Puts an end to bottlenecks and IT requests.
The tool provides complete control of your marketing team.
It renders reduced Marketing time.
Unbounce assists build conversion tools with no knowledge of HTML.
Lower customer acquisition costs.
Unbounce, being a hosted software, you don't need to install anything.
Demerits
Only Premium and Enterprise plans offer redirects and integrations.
Enterprise-grade fear=tures are expensive.
Pricing
Essential – $79/month.
Premium – $159/month.
Enterprise – $399/month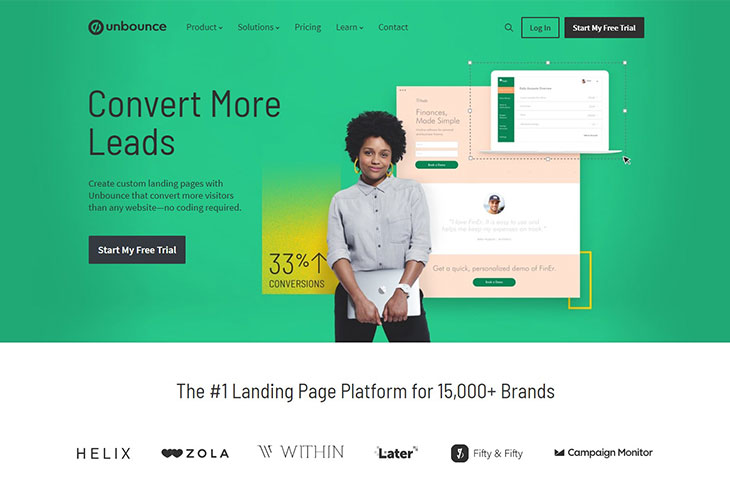 5. Wishpond
Wishpond landing page builder tool helps build intuitive landing pages that help you maximize leads and sales from your website.
Merits
Drag and drop editor.
Programming knowledge not required.
Wishpond has a built-in popup tool that triggers popups, slide-in popups, welcome-mats, and opt-in bars on entry, exit, scroll, click, or with a timed delay.
Provides a one-click A/B split testing.
It provides real-time analytics.
You can create customized form-fields.
Pages look great on all the devices.
Very mobile-friendly.
Personalized weekly detailed report e-mails.
Wishpond sends notifications of new leads from marketing campaigns.
Demerits
The lowest-tier plan provided a limited number of leads up to 1000.
All plans do not support custom Javascript and A/B testing.
Pricing
Starting Out plan – $49/month.
Everything You Need Plan – $99/month.
Rapid Growth plan – $199/month for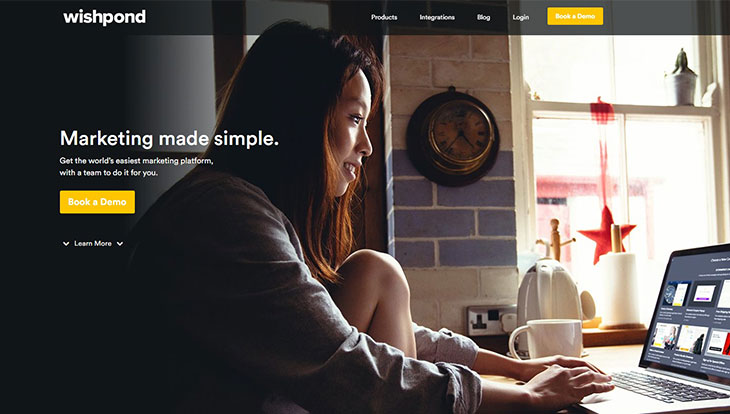 6. Elementor
You can create impressive landing pages without any prior professional experience.
Merits
Elementor is the only landing page builder, built for WordPress websites.
Elementor offers more than 90 elements- headings, images, carousels, buttons, progress bars, counters, and testimonials.
It offers drag and drop functionality.
Unlike CSS and HTML, the version of the page you get to view in the interface is the same as the final page.
Pages can import a library of pre-made templates and can modify them also.
The Pro version of Elementor comes with a Theme Builder feature.
Elementor also offers a new WooCommerce Builder module. With this feature, you can redo the default Woocommerce pages, such as product archives or the single product page.
Demerits
Only the paid plans offer features such as widgets, popup builders, theme builders.
Elementor relies on third parties for many add-ons.
Pricing
Free Plan – $0
Personal Plan – $49/year.
Business plan – $99/year.
Unlimited Plan – $199/year.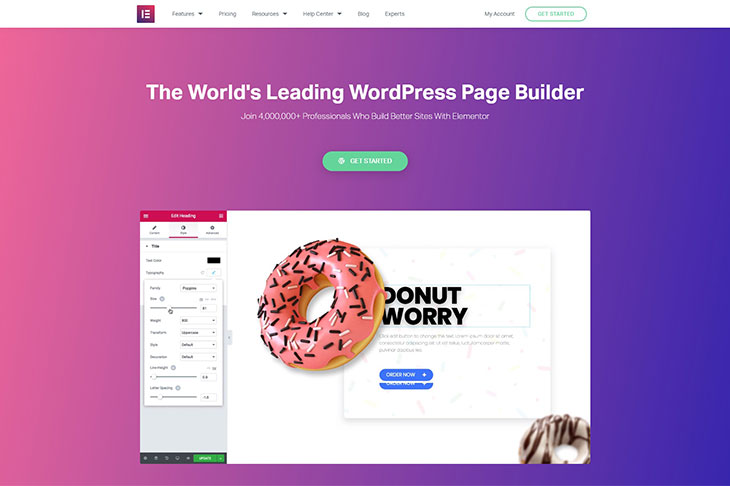 7. MailChimp
MailChimp helps you draw more and more traffic towards your products and services through its beautiful and enticing landing pages. MailChimp landing pages can be shared easily across MailChimp marketing campaigns. You can also tag anyone who subscribes if your landing page has a sign-up form.
Merits
It provides drag and drop functionality.
Content is automatically routed to the landing page builder from your website.
You can easily link your landing page to a mail chimp marketing campaign.
Demerits
Customization of URL is not available with a low-grade Plan.
Not exclusively deals with a landing page.
Pricing
Free plan – $0
Grow plan – $10
Pro plan – $199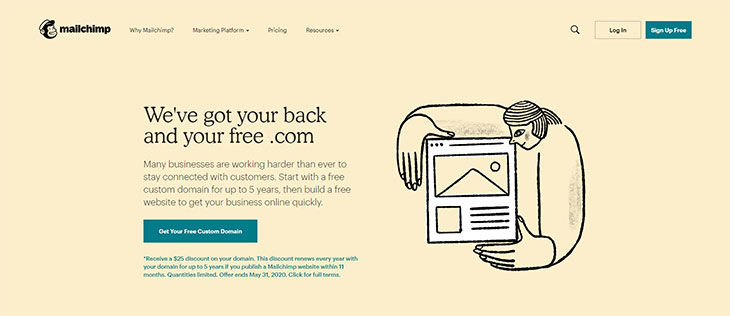 8. GetResponse
GetResponse is not primarily a landing page software such as Wishpond and Mailchimp, but it offers a complete marketing solution to Webmasters.
Merits
Ready-made, mobile-responsive templates are optimized for high conversion rates.
Has a built-in image editor.
Visually stunning images and photos from Shutterstock.
Engaging GIFs from Giphy.
Allows integration of countdown timers for better conversion-rates.
Provides a Drag and drop editor.
You can resize, move, group, crop, color, and reshape any element on your landing page.
Has the provision of A/B testing.
Demerits
GetResponse's primary product is not landing page software.
Enterprise edition is expensive.
The pricing depends on the number of contacts. Once you've built a list of more than 1000 contacts, you need to upgrade to more expensive plans.
Pricing
Email – $15/month.
Pro – $49/month
Max – $165/month
Enterprise – $1199/month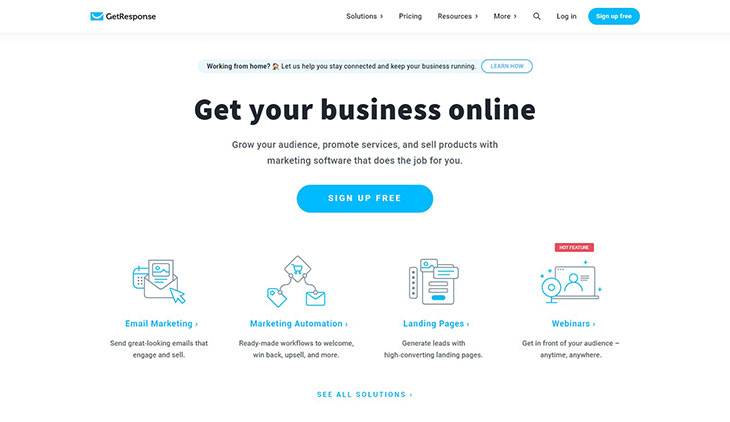 9. Wix
Wix helps build websites that are functional, yet stunning, and professional for free. It gives you the freedom to create and manage landing pages as per your requirements.
Merits
Extremely innovative drag and drop builder.
Video backgrounds, images, and scroll effects bring your landing page to live to render a high conversion rate,
More than 30 templates to choose from.
Adept tool for building portfolios, e-commerce sites, apart from just landing pages.
Easy to launch like all the other sites of Wix.
Demerits
Some plans offer limited bandwidth and storage.
The tool has fewer options than other software.
Building landing pages is not the primary function of Wix.
Pricing
This is a free tool. The paid plans start at $11/month.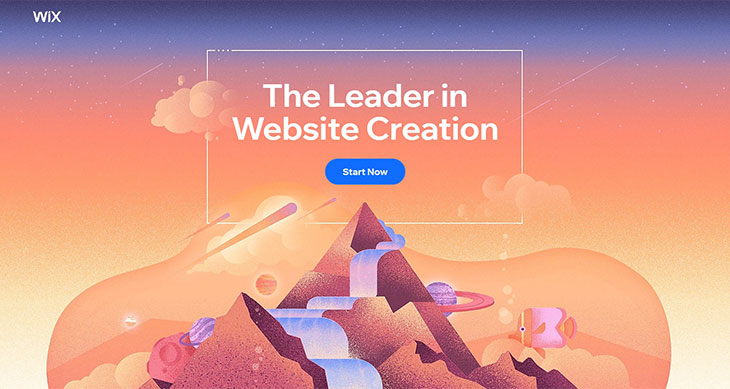 10. Kickoff Labs
It is an excellent tool for marketers willing to venture into viral marketing campaigns and give a new dimension to their landing page. It helps them to set up sweepstakes and giveaways for launching your product quickly. Fans or followers, who refer and promote the product to their friends, earn rewards, and point for doing so.
Merits
It provides 45 customizable templates.
The tool is specially designed for launching viral marketing campaigns.
The tool includes wizards that are usually not provided by other tools.
Demerits
The Hobby Plan puts a limit on the number of visitors in a month to 2000.
KickoffLabs has a particular use case.
Only the higher tier plans support multiple campaigns, custom domains, A/B Testing, and integrations.
Pricing
Hobby – $19
Premium – $49
Business – $99
Enterprise – $199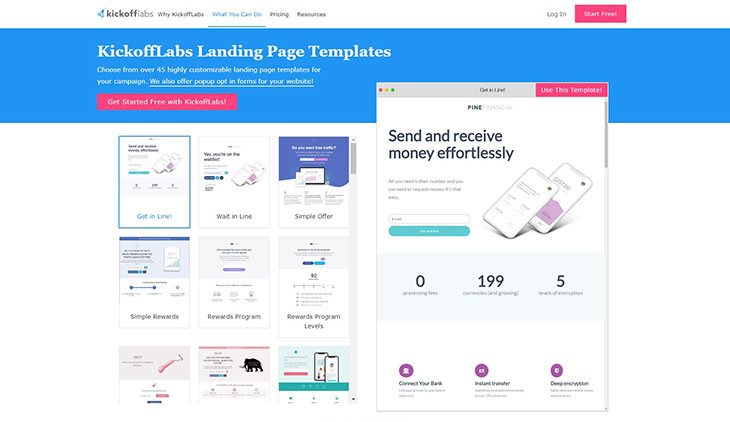 ---

Conclusion:
The tools and advancements have equipped Webmasters with handy and quick measures of developing useful landing pages. The choice of which specific tool to employ in their business vests in their goals and objectives.