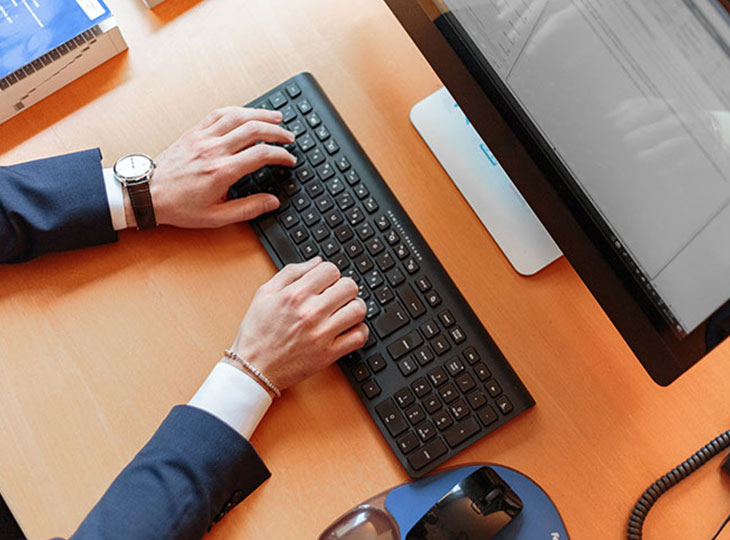 Wikipedia defines Enterprise Content Management as:
Enterprise content management (ECM) extends the concept of content management by adding a timeline for each content item and possibly enforcing processes for the creation, approval, and distribution of them. Systems that implement ECM generally provide a secure repository for managed items, be they analog or digital that indexes them. They also include one or more methods for importing content to bring new items under management and several presentation methods to make items available for use.
While it is possible that content in an ECM is protected by DRM it is not required.
The key feature of ECM that distinguishes it from "simple" content management is that an ECM is at least cognizant of the processes and procedures of the enterprise it is created for, and as such is particular to it."
A Content Management System that fulfills the above requirements can be classified as an Enterprise Level CMS or ECMS. Following are a few essential features that every ECMS should have:
Flexibility and modular approach
An enterprise CMS should be flexible, allowing administrators to edit, design and move parts according to the requirement of business enterprise. It should also allow them to manage notifications for tasks and handle various sites and platforms. CMS should also adopt changes in design quickly and reflect them in the search engine.
Security
Security of ECMS should be updated on a regular basis. Ensure well in advance that security patch covers the Common Vulnerabilities and Exposures (CVE). A professional CMS development company emphasizes on providing robust security with an effective security management system that matches industry standards.
Tracking the analytics of content
The ability to track the performance of your content is another important feature. Administrators generally make use of Google Analytics to track key performance indicators of content directly from the dashboard. It can make you find out how many viewers were interested, shared or commented on your content. Analytics helps in making you understand what users are looking for.
Easy administration of different functionalities
The admin dashboard is an important component of any ECMS. It should be such that it becomes easy for the user to manage all tasks related to content production and publication. Some of these tasks include:
Monitoring site and administrator activities
Tracking of scheduled content and related assets
Adding functionality by using modules and plugins
Managing notifications for tasks
Administering multiple sites and platforms, if needed
Appropriate rights can be allotted to different users according to their levels of responsibilities within a single piece of software. This reason reduces complexity and makes the task of handling content workflow a lot easier.

Social media integration
Social media platforms have become an essential medium to interact and reach your key audiences. Therefore, the consideration of social tools becomes a must for any ECMS. It should provide social media sharing buttons so that more and more people are able to see your content and share with their audiences further. Other important social features include the ability to automatically format your articles in Twitter cards, appending Twitter username to any piece of shared content and use of Open Graph tags to optimize the display of shared content on Facebook.
Publishing controls
It's unlikely that in an enterprise a single person publishes all of the content. There can be multiple team members involved in the process of content production, editing and publishing. It's convenient when you've various roles and levels of access for them in your enterprise website. This publishing control feature helps in delegating responsibilities clearly and ensures that everything fine goes live on your site.
Adaptability
Another useful feature is the adaptability of the type of content. Whether it is short news items or longer articles with custom layouts, a good ECMS will adapt to the type of content you want to publish.  Having powerful publishing tools also allows you to handle SEO, content tagging, adding images and video from within the publishing interface.
Support
Usually, no support is offered by most of the open source software, but popular CMS such as WordPress or Drupal have community users to solve your problems. The enterprise CMS runs optimally making navigation faster with a well-connected support system.
Multilingual support
The multilingual support feature will make the communication process easier as it will help you speak to your site visitors in their native tongue. Some enterprise CMS is equipped with more advanced features such as Translation Management, or Side-by-Side Translation Comparison.
Offering extensive search opportunities
People look for solutions when they visit your website. Make your Enterprise CMS search friendly and half the work is done. It's likely you get rewarded with high conversion rates.
Conclusion
Usually, a CMS provides features to manage web content, whereas an ECMS with above-mentioned features helps organizations further into different areas such as:
Document management
Document imaging
Records management
Digital asset management
Workflow management / Business process management
Web content management
Knowledge management
If you realize information is a key asset for your organization with 'knowledge workers' primarily in operations then manage it effectively. We can provide enterprise CMS and custom application development services for your business. Feel free to write to us if you have any questions on enterprise CMS. We will be happy to help!