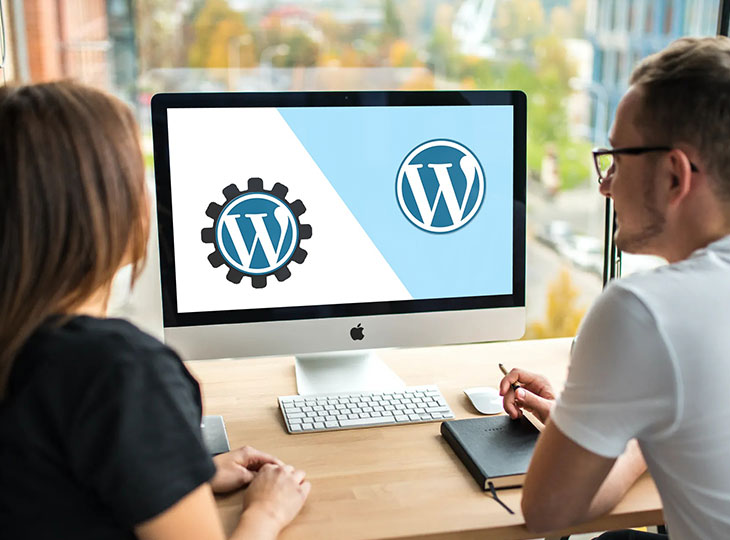 What are WordPress themes?
WordPress has thousands of themes currently available. Themes are pre-made layouts that quite often come with stock content. You can further customize a theme to make it more unique. Themes come with different features and content, such as images, background, and color schemes. They also have their own content layouts.
A WordPress theme gives structure to your website. The overall styling of your site at the frontend depends on the choice of the theme.
Themes provide the following to your site:
Features and functions of your website.
Fixes the style or design of your website.
The style of the font.
The color scheme
Location of the widgets.
Page Layout.
Blog post styling.
So, themes are crucial for your website. Themes can be tailor or custom made as per your unique branding guidelines and feature requirements, or you can use one of the many Premium themes available for WordPress. Each of the two types of themes has its merits and demerits. We will guide you through both the two types of themes to help you make a sound choice.
What is a Premium Theme?
These types of themes are predesigned website designs created by WordPress professionals. So, you have the look of the website ready for you. You have to purchase the theme, create your content, and publish it on the site. Rather than creating a once-off theme for a particular client, premium themes are created once and sold to multiple clients worldwide to be used by their businesses.
Examples of Premium themes are X Theme, Avada, Divi, and Jupiter.
What is a Custom Theme?
Custom Theme is a theme that has been built by people who specialize in code. They create the theme from the ground up. So, they start at the very basic level of their code, spending a good couple of hundred hours building this theme.
The framework of the website is built from the start, to suit the unique requirements of a business; this type of theme is a custom theme. Here you have complete control over the functionality and design of your website.
Merits of Custom WordPress themes
Since these themes are tailor-made, they can range from very basic to most advanced layouts, features and designs. With all these options, many people wonder why they should spend money on custom themes. Let us look at the several advantages you get with these themes:
Custom themes are suitable for businesses that want a very customized website solution. Here, you know everything that you can think of from not only the look and feel, but also the navigation and functionality is concerned.
You can start custom themes with a clean slate. So any business that is very particular about their branding, functional requirements and needs pixel-perfect attention to detail, a custom theme is a suitable deal.
With a custom theme, you can only allow the specific features required for your site, keeping the unwanted and useless features at bay.
Since these themes are tailor-made to your requirements, they offer excellent website speed over Premium themes.
Demerits of Custom WordPress themes
With custom WordPress themes, the most significant strength is also the greatest weakness. If you need to make any alteration to the theme or anything goes wrong, you need a team of developers to get those changes done, which means extra cost.
There are a few code cowboys that may build poor code. It would be best if you made sure that the person developing your theme has the know-how of the best practices.
Also, you need to work with a professional web development agency to help you maintain and update your custom coded theme to keep it future-proof.
Custom themes take a lot of time and money to design. Hence developing custom themes and keeping them updated is costly when compared to premium themes.
Merits of Premium theme
The most significant benefit of using a Premium theme is that it saves on the cost and time. Here we don't have to start from ground zero building all that code. So, businesses looking for something that is done on time and budget- premium themes are an appropriate choice.
The other great benefit of using a premium theme is its functionality. Custom themes are tailor-made themes to provide the functionality that a particular business requires at that specific point of time. When using pre-made themes, what the developers do is that they club a bunch of different options that you can be of use in the future as well, such as a gallery or projects you might want to blog. Depending on the pre-made premium theme that you go for, there will be a bunch of different things all jam-packed into one theme. For a small business or even medium businesses, they can have functionality not just for what they are using today, but also for their future growing needs and business requirements.
The other great advantage of using a premium theme is in terms of its ongoing support and documentation. A theme that has been released for Premium has thousands of people using and relying on that theme. Therefore there are people in place, making updates, and they are very reliable too. These updates are done as soon as new updates for WordPress and supported plugins are released.
The research that goes into choosing a premium theme is critical, just as it is for selecting the right developer for a customized theme. So make sure, if you are contemplating on choosing an existing premium theme for your website, that you read a lot of reviews and feedback. See what sites have been built using that theme. Make sure you use a theme that is backed by a reputable theme company or developer that is widely recommended online.
Demerits of a Premium theme
As already mentioned, unlike custom themes that are more specific to your needs, premium themes are packed by many other features that you may not need at the moment. This means much extra code that might make your site load more slowly.
Premium themes offer only the feature that shows in the demo of the theme. For functions that are more specific to your business, you will have to go in for custom-made themes or get your Premium themes customized.
Making the final decision…
You are using WordPress for the foundation of your website. So, you can go down the road using either a pre-made premium theme or engage with a web development Agency to use the capabilities of a custom made theme.
There are a couple of limitations with every theme. An excellent example with custom themes is with the suit being cut to your body. What happens with premium themes is that you get the scarf, you get the cufflinks and other accessories that you may not need right now, but you can use it in the future.
If you do not wish to shell much money on your website and want to start right away, then premium themes are the best choice.
On the other hand, if your business's design is critical to you and you want everything according to your requirements, then you must go for custom-made themes. Custom made themes will give you the functionality and features that you need and pixel-perfect designs that will meet your standards of perfection.
I hope this blog helped make a suitable choice for the kind of website you want for your business.
Simple Intelligent Systems will be delighted to help you with all types of websites you require to meet your business goals. We can help you create a customized theme and help you with the setup and customizations that you may need for a premium theme.