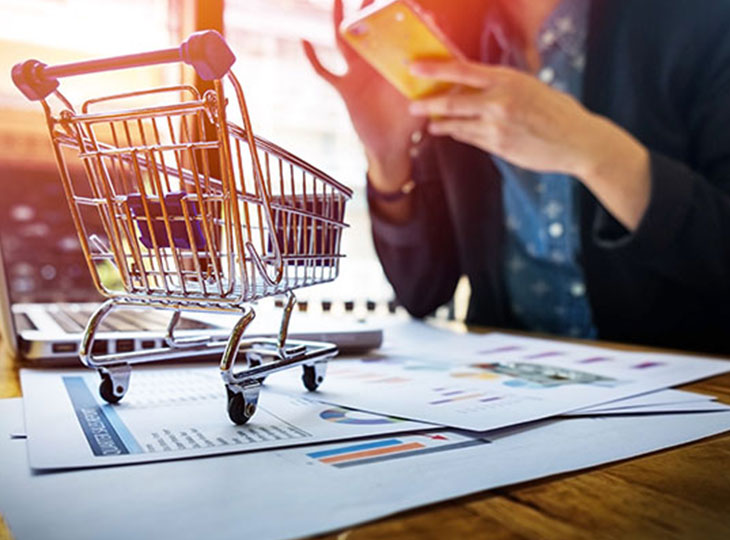 With the advent of the web, numerous businesses are able to cross geographical barriers to expanding their customer base worldwide. It is complemented by increased mobile exposure through which millions of people have started buying online.
There is no point doubting the enormous potential of eCommerce business.
It poses a massive opportunity for businesses to grow but what it takes in return. Have you ever thought about this?
Let's solve this dilemma. To sell your products and services online, you need to equip your website with the best eCommerce solution, a package rather.
Today, you can find an array of eCommerce platform packages to help you build your online business. Most of them offer standard functionality such as an online catalog to showcase your products, ability to take payments online, manage customers and after-sales. Others come with advanced features such as online marketing convenience, the ability to manage or integrate with in-store systems and the provision of APIs.
In this article, we'll check out some of the best eCommerce platforms with their features. If you are in the process of setting up your online store, comparing them with your requirements might help you decide which platform suits best.
Shopify
A simple-to-use eCommerce platform Shopify is perhaps one of the best amongst all.
Design: No technical expertise or design experience is needed to create an online store. Choose from a wide range of templates or design the look and feel according to your wish.
Payment and security: It accepts various credit cards for payments, has level 1 PCI compliance and 256-bit SSL encryption for security. It offers 24/7 support via phone, instant messaging or email.
Functionality: The platform is fully responsive making it optimized both for desktop and mobile device users. It offers a full CMS to users to manage the functionality and layout of their online store. Shopify provides unlimited hosting for their stores, in-depth analytics of how visitors are using the store, SEO, gift cards and email marketing tools.
Bigcommerce
It claims to provide support for the user's business along with a fully functional store.
Design: Users can make their store look great with a variety of templates and themes that are made available by Bigcommerce.
Functionality: The platform offers a full-featured content management system to run an entire website instead of just a store. There is a provision for detailed and flexible product management in Bigcommerce. Users benefit from optimized search engine rankings and a variety of integrated marketing tools and analytics.
Support: Besides getting phone, instant chat, and email support, users get access to articles and videos, and a team of eCommerce experts to help them with online selling.
Payment: With Bigcommerce payments can be accepted through more than 40 pre-integrated gateways and shipping details can be customized as per business's requirements.
Additional Features: For shopping convenience of online buyers, support for Amazon Import and Link and Shopping in Instagram stories features are also added in Bigcommerce. Users save time by automated order processing, flexible tax rules depending on where orders are made and shipped, and support for multiple currencies.
Volusion
The all-in-one eCommerce solution Volusion has been around for almost two decades.
Design: Users can choose a design from a variety of templates. They can also customize templates according to their personalized preferences. Volusion offers a custom design service that can incorporate a firm's branding and social media presence.
Functionality: In addition to site and product management tools, this platform offers marketing functionality for SEO, social media, and affiliate outlets. Users get access to emails and order management functionality for accepting payments, fast order processing, tax calculations, and POS integration.
Support: There are apps for partners and knowledge-base to help users with eCommerce support. Users also get a provision for blog posts, webinars, and guides with Volusion.
CoreCommerce
The easy-to-use Corecommerce platform focuses on providing eCommerce services to small and medium-sized businesses. As claimed by the company, users get all features regardless of what plan they choose, and there are no hidden charges in it.
Functionality: CoreCommerce offers functionality for store design, product management, order processing, and marketing. Main features include unlimited product customization, automatic updates, a built-in blogging engine, Level 1 PCI-DSS compliance, and secure hosting with a 99.9% uptime guarantee.

3dcart
User-friendly 3dcart allows stores that can be highly tailored to the needs of each business.
Design: Users can either design their own store or use one of the many templates provided by 3dcart. Making changes to the design of a store is very simple with a quick edit bar.
Functionality: Product images can be highlighted with an auto-zoom feature offered by 3dcart. With a store, integration feature products can be sold via Facebook. Tools are provided for setting up coupons, sending newsletters and affiliate marketing. It comes with plenty of innovative features that include a purchase order system, the option of running a loyalty program and the ability to offer recurring orders.
Services: Besides giving a platform for eCommerce business, 3dcart offers several professional services. Users get consultation services for shopping feed management, social media, SEO, PPC, Facebook ads, conversion and help on setting up a store to the highest standard. Other useful services offered by 3dcart are data migration and training, site cloning and setting up custom tracking.
Security: In addition, 3dcart can provide secure level 1 PCI hosting, 256Bit SSL Certificate, IP blocking security, 99.94% uptime and 24/7 monitoring. Users also get fast site performance, unlimited disk space, and unlimited email hosting.
WooCommerce
An open-source e-commerce platform WooCommerce is a completely customizable option for online entrepreneurs. Users have complete control as they can add any number of products and take unlimited orders from their clients.
Functionality: WooCommerce is built on a user-friendly WordPress content management system. It offers unlimited themes, unrestricted customization, built-in blogging, product rating and reviews features for users. To manage orders and customers, there is an easy to use provision for customer accounts and guest checkout, One-click refunds, Inventory and order management.
Payment and security: Customers can pay with an SSL secured built-in payment processing module.
Additional Features:
Stock level tracking
Alerts
Sales reports
Product data panel
Mobile apps
Automatic Tax calculations
Geo-location support
WordPress-centric user interface
Integrations
PrestaShop
One of the most popular free eCommerce solutions, PrestaShop is a complete CMS scalable and customizable open source platform to set up an online store.
Functionality: Some of the best features PrestaShop offers to its users are powerful catalog and site management to efficiently manage dynamic product list, multiple product views and zoom in features for enhanced user experience, a one-page checkout option, and real-time analytics. Multiple free modules can be added to the site including social media links, LiveChat, etc.
Payment: Prestashop offers secured and easy integration with PayPal payment gateway. The customers have options to authenticate their orders in the checkout phase.
Additional Features: It is possible to enable SSL on the store with just a click. The shipping methods and taxes can be configured based on specific locations. To improve customer engagement and minimize abandonment cart rate, emails support is also provided.
 Wrap Up
It's quite challenging to start a new business in this competitive environment especially when you try to move away from a traditional store to an online version. Seeing a variety of online options, choosing the best fully-functional eCommerce platform is difficult.
We recommend analyzing these platforms on the basis of parameters such as pricing & payment, integrations, SEO friendliness, mobile friendliness, security, customer service, and scalability.
Knowing what to look for in advance makes choosing a platform an easier process.
What features according to you makes the best eCommerce software? We want to know your opinion about this. Let us know your thoughts in the comment section below.
We will be happy to help you with your questions if you have any!