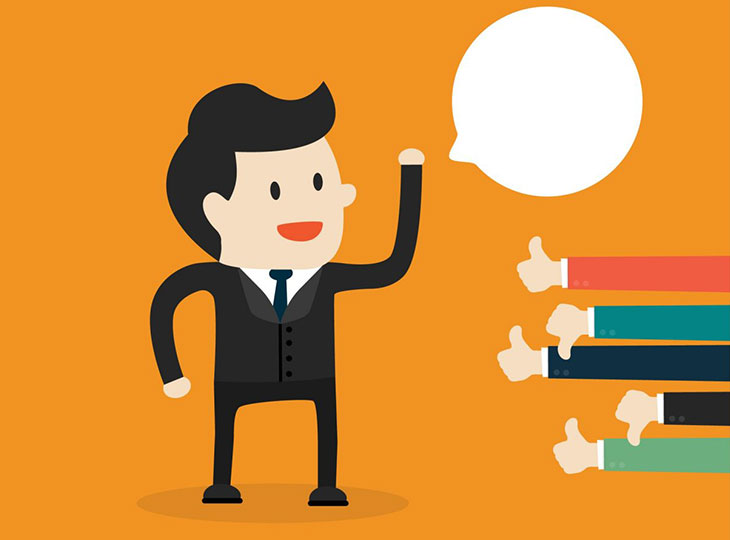 Why is Local SEO Optimization important?
The key to success of any business is Local Search Engine Optimization. Listings on platforms like Tripadvisor,Yelp,Foursquare,Facebook etc. can do wonders for a business .Getting on the first page of Google is a much sought after aim of SEO.Local SEO encourages traffic of relevant customers to a business directly.
Local SEO delivers results which are more specific .It helps local searchers to locate local businesses .People, nowadays perform local searches for the product that they wish to buy rather than going to the market directly.
Local SEO offers better conversion rate as the traffic is more targeted.A customer who is in the area of the business he is searching for is more likely to contact your business.
Your website is the virtual office of your business.With the help of local SEO customers can easily interact with your business.
SEO can be grouped into four main parts
1) On-Page SEO
Non-technical on-page SEO, would consider the following:
Content
Keyword Selection
Keyword Placement
Design
Layout
2) Technical SEO
The following areas come under Technical SEO :
Website Structure
Link Structure
Meta Tags
Usability & Friendliness
Indexability
Image Optimization
Site Speed
Code
Errors
Schema
3) Off-Page SEO
Off-page SEO comprises of techniques to improve your website's rank that are done off your website.
There are numerous tactics you can use that help with link building;
Social Bookmarking
Blog & Forum Commenting
Content Marketing
Social Media
Link Outreach
Guest Posts
Interviews
Reviews
You can ask users to provide their reviews on your services (or products). People generally prefer to go through other customers' reviews before making a purchase.A feedback or suggestion section is also desirable. Here anyone can give you suggestions or ideas for further improvement and extension of your business.
4) Local SEO
It is necessary to implement local search strategies in order to make your business visible. Most often, businesses think of local SEO as getting listed on a number of different search directories. Although this is important ,it should not be the soul motto.
How are Client Reviews important in local SEO?
It is important for a business to know what their customers think about them.It is only then that a business can pave way for improvements and innovations.
In order to boost your business's local reputation you need more and more positive reviews.
Which restaurant would you rather go to? XY&Z with no online profile, a 3-star rated joint with dissatisfied customer posts, or a 5-star rated multi-cuisine restaurant with dozens of glowing reviews?
You are most likely to opt for the safest choice and get value for money ie the restaurant with plenty of positive reviews of satisfied customers.
Consumers are highly influenced by online reviews.
So the more quality, positive reviews you get, the higher your chances are of convincing customers to choose to spend their money on your business.
You need to prominently display these reviews on your website!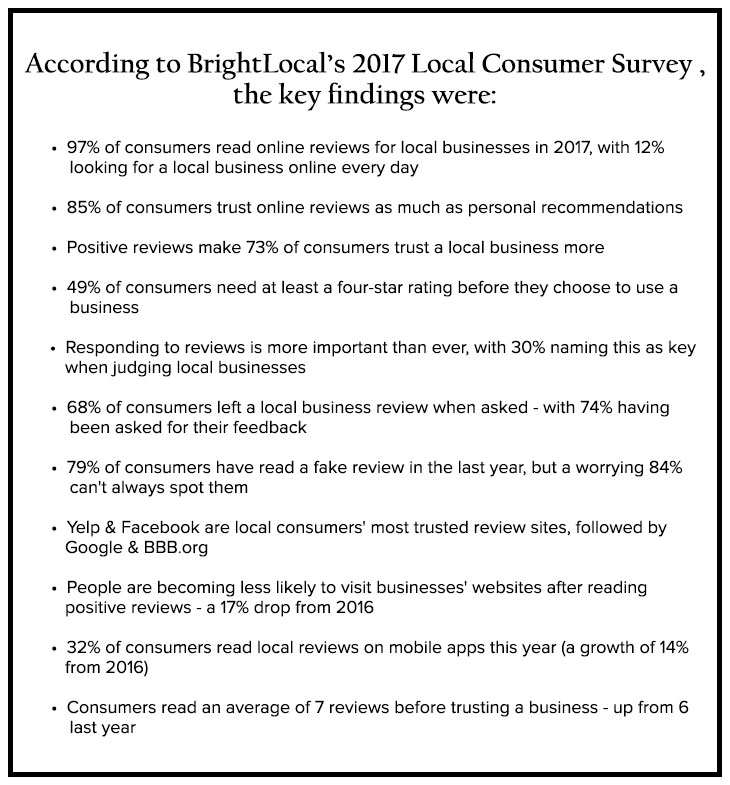 Six ways reviews can help SEO
Fresh user-generated content available
UGC can be in the form of forms, question-and-answer forums, reviews, blogs, social media postsetc.It provides access to fresh content from users concerning the business and a forum for businesses to respond immediately to issues and concerns of customers. This instills a sense of belief and trust in a business.
Encourages use of long-tailed keywords
People reviewing your site are your actual customers and you know the specific keywords that they are going to text in while seeking a particular service.Hence the more the reviews , the more the customer traffic, and the more the inflow of regular business .
Social media like Twitter, Facebook etc are an excellent platform to encourage product sales . Reviews posted on such sites are a way to publicize products and services . Positive reviews about a product can boost sales by way of mouth to mouth publicity.Hence social strategy helps a business to yield returns by leaps and bounds.
Local SEO services
The ever changing nature of SEO has made the task of Search Engine Optimization a complex one.The issues that need to be catered to while optimizing the Search Engine are:-
A blog that enlists specific aspects concerning the product/services .The blog should also essentially mention the characteristics of the community that the product or service is deemed to cater to.
The business should endeavour to mark its presence in all local listing pages.
Use of the most appropriate local keywords and using them optimally all over the site. Using such keywords would reap huge traffic to the site.
Local newspapers and advertising agencies can help gain access to the local market.
The website should be compatible to run an all platforms and devices , be it mobile, laptops ,desktops and so on.
The customers should be invited and encouraged to post their reviews whenever they visit a page on the website
All efforts should be made to publicize the product/services on all social media platforms.
Visual content attracts viewers to a website,so they should be incorporated optimally on websites to increase traffic.
Regular updation of a website so that they display the most relevant information .
This list might seem trivial but it requires regular monitoring and choosing the best SEO company.You need to be constantly on your toes else you might just lose in the hands of competitors.
Why are Local SEO Services Important for your Business?
Local Search Engine Optimization helps a business mark its presence in the local market.Hence the choice of SEO company is crucial.Customers looking for a specific product or service prefer a local provider over one situated in a different city or State.A good SEO company will help a business to capture all local customers and market the product/services in the most efficient manner.
Some advantages of Local SEO are:
Local SEO targets the internet savvy customers.Mobiles, laptops are accessible to customers all the time. These devices serve as a planner and guide to them. A single click or search helps them view hundreds of local suppliers from which they need to make a choice.
The digital revolution has made the tradition phone books obsolete .The internet is the answer to all queries and requirements.SEO takes the lead in all promotional campaigns of a business.
For Local searches two things hold prime importance-marketing should be targetted and timely.The task of Local Seo is to make a product /service visible to the audience it is deemed to cater to. Local SEO also ensures timely response to user requests and queries.
The rate of conversion of Local SEO is by any means higher than any print media or other forms of traditional advertisements.Hence Local SEO most efficiently and economically converts potential viewers into customers.
Local SEO strategies
Optimization of local listings and citations
Local SEO services would include optimizing local listings and citations.In order to get listed and have a good ranking on Google, you need to be legitimate business owner.
These elements are:
NAP
Your Name, address and phone number information should be consistent everywhere.You need to make sure that you enter the same address information across the web.
Schema
Adding schema markups for NAP helps search engines to have a better idea of your business.With Schema markups search engines are able to generate good local listings and attracting more relevant users to a website.
For local listings and citations the following information is also required:
NAP of the business.
Website URL (list of internal location pages if more than one location).
A short description (up to 50 characters) which includes your main city name and nature of business.
A description of up to 250 characters that describes your identity and work.
Recent photographs related to your business.
Nature of your business.
Specific keywords
Local citations are basically description of a local business which may or may not include a link to the bwebsit.There are two strategies to create local citations
manually on your own
get a third party do the task for you
In case of small scale local businesses, manually creating local citations is a good practice.In case of SMB's local strategy is to get these listings:
Google My Business
Facebook
Yahoo! Local (currently requires a payment to Yext)
Apple Maps
Bing Places for Business
MapQuest
Nokia
Yelp
BBB.org
Superpages
TripAdvisor
Foursquare
Angie's List
Home Advisor
Thumbtack
In case you hire a third party to gather local citations,you have to submit details like NAP, URL etc.
Optimizing your website and its content.
The content on a website should be optimized by take care of these :
Proper Keyword Research:The choice of keywords should be such that the site attracts the most relevant customers to a site.
Well written content:Pages that are written well,having good grammar and correct spellings rank better than otherwise.
Descriptive page titles: The page titles should include keyword phrases and at the same time include a small description . This helps in achieving a better ranking.
Header tags:The header tags should include keyword phrases.
Optimized URL's : Use keyword phrases in URL's.
Page load time :The pages that have a lesser loading time rank better.
Internal Linking:Linking your content with internal pages on your site helps viewers in navigating your site .
Mobile friendly design:Website should be compatible to run on all platforms like mobile etc . Almost all users today have access to smart- phones . So , a website that is not able to show up on a mobile device will ultimately result in loss of traffic.
Optimizing and working on the links to your website.
Using link analysis search engines can figure out how one page is linked to the other.Pages within a site should be linked to other pages to facilitate navigation process.
Reviews can also be managed like this:
Encourage customers to post reviews .
A small team to handle reviews can be of great help.
Incorporate a link on your website where customers can post reviews.
Add a form,or a comment box where customers can leave reviews .
The sales process is all about answering queries, responding to feedback ,and planning strategies for a business keeping in mind these reviews and feedback. The more responsive you are to queries ,reviews and feedback, the more you can change a prospect into a customer. Hence Clent Reviews for local SEO play a vital role in a business.