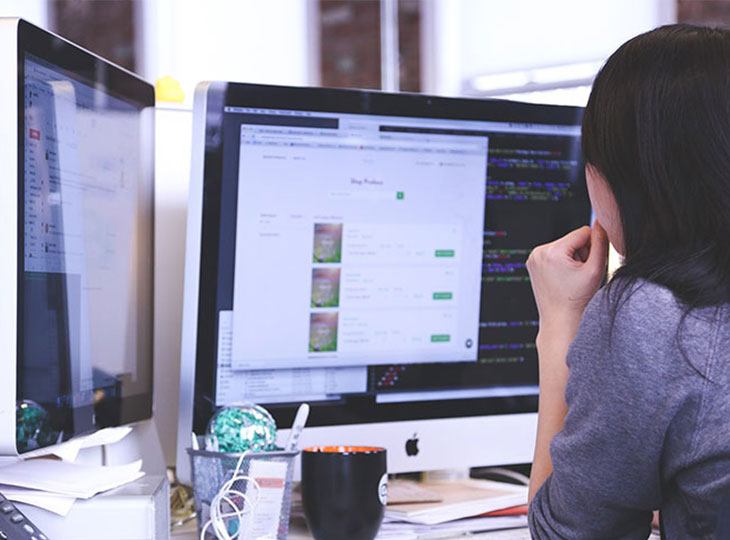 Cheap Website Editing Platforms are making it easier for anyone to call themselves a "Web Developer" and Why it's Bad for the Internet.
By Tim Bradshaw, Founder & CEO, Insercorp LTD
Having designed and produced over 200 websites in the past two decades, I've explored and leveraged a wide range of website editing tools. In 2019 there are now more website editing platforms than there have ever been before, but it's the do-it-yourself (DIY) website builders and the widely-used WordPress content management system that is taking the Internet by storm. The aftermath may not be getting us to a better World Wide Web.
Before we explore the current trending website builders and editing platforms available it's important that we understand how we got here and why.
I first started building websites using a very early do-it-yourself website builder, AOL's Personal Publisher 2, in the 1990's. Personal Publisher 2 was part of the America Online software, which most Internet pioneers used as part of their dial-up service's product suite, all built-in to the AOL platform itself. Personal Publisher 2 offered several cutting-edge features including the ability to create, drag, and drop layers anywhere on your page in addition to common features such as text editing, inserting images, creating hyperlinks, and adding HTML widgets like "hit counters" and "webrings". One of the biggest obstacles I ran into early on with a DIY website building tool such as Personal Publisher 2 was its limited capacity to manage a website with multiple pages – lacking dynamic elements like global headers, footers, and navigation menus. In other words – changing things across every page of a website required editing every page of that website, even if it was just adding a link to your menu or changing out an image in your header. While web-based publishing tools like Geocities and Angelfire offered similar capabilities they were all restricted to their domains. I eventually turned to a desktop-based software program called Macromedia Dreamweaver to design and build my own websites before realizing the dire need for a Content Management System to make it easy to manage websites once they were built.
When the Y2K craze came and went and AOL began to meet its demise after a botched FCC ruling following the infamous AOL Time Warner merger the Internet was like the Wild West. Broadband brought the majority of the population online to join the ranks of the minority of scientists, engineers, techies, and gamers who had already been carving out their corners of the Internet for years. With this massive and continuously growing influx of new Internet users, everything and everyone suddenly realized the potential of the World Wide Web and how it changed the way audiences access and interact with information – at the tip of their fingers.
Website Builders and Content Management Systems
With such a soaring demand for information right now, businesses and web developers alike would begin honing in on their ability to disseminate information to the masses as quickly, and sometimes not so efficiently, as possible. Thus the result became a content bottleneck as most organizations relied on "Webmasters" to add and edit content supplied by communications and marketing teams, exposing a large gap between technology and marketing which also created opportunities for many innovative ideas which would ultimately pave the way for DIY Website Builders, open-source platforms like Joomla! and WordPress, and custom and proprietary platforms developed for specific purposes or enterprise environments.
When we talk about "designing" a website, that could mean many things. Are we designing from a template? Or are we designing from a blank canvas – from scratch? Of course, the purpose of a website should determine its overall design, but one thing many marketing and communications professionals fail to consider when selecting a platform to build their website on is how often the website should be updated after it is built, and how easy it should be for the
Website's Visitors to find and access information. After all, Websites should be as dynamic as the information they are presenting.
Do-It-Yourself Website Builders
There are many Do-It-Yourself, or DIY, Website Builders. Some of the more common ones include Wix, Weebly, GoDaddy's GoCentral, and now services like Shopify and Squarespace are replicating these models for the E-Commerce world. What makes them "DIY"? It's simple – anyone can create an account with one of these services and start designing their website by selecting a template and using a simple drag-and-drop interface to customize and personalize the template. The "web designer" can then add in widgets and other plugins to tie in other web services and shape their website the way they want. It's easy and simple and in most cases, you can use a free tier or get a free trial to "test the waters". There are also generally small learning curves so anyone with a sense of visual design can jump right in and start creating websites.
However, DIY Website Builders do have their limitations, and while they're great for personal websites, throw-away websites promoting a one-time event, or a very first website for a mom-n-pop or micro business, they should not be considered an adequate option for businesses and organizations looking to establish or develop their online presence (and certainly not for public sector, government websites).
Open-Source Website Platforms
So what's the next step up from a DIY Website Builder? In the early 2000's when "Blogging" became a thing, there were several Blog engines that began to increase in popularity. One, in particular, WordPress, emerged at the head of the pack by opening up its source code for any web developer to install and customize their own copy of WordPress to build a Blog around. Eventually, WordPress evolved to become an open source content management system with a community of thousands of developers.
WordPress pioneered an interesting model of providing Webmasters access to a marketplace of plugins, code developed by third-party developers to allow websites to perform specific tasks and functions such as photo galleries, event calendars, SEO enhancements, and even E-Commerce suites. Unfortunately, this created an even larger limitation for pseudo-developers who were only accustomed to installing and modifying WordPress templates, with many plugins standing out from their original templates with stark inconsistencies in design and branding from the rest of the website. Even with a decent WordPress developer who could seamlessly integrate third-party plugins into the WordPress templates he/she created or modified it would become a nightmarish challenge to keep plugins up to date. The worst part is that if plugins were not made forward-compatible with WordPress system updates then the entire website could stop working.
Headaches and Risks with WordPress and other Open Source Platforms
Most Web Developers know how painstakingly cumbersome Joomla! is, especially with its security vulnerabilities and databases crashes. Did you know that over 70% of WordPress websites on the Internet are vulnerable to hackers and exploits?
Even with WebOps Platforms like Plesk which make it easy to keep track of WordPress instances with its WordPress Toolkit Extension (which includes monitoring and one-click WordPress updates), not all Web Developers have the experience and management infrastructure to keep their WordPress instances up to date.
In addition to concerns with security and customizations, it should also be noted that WordPress cannot pass the Google Lighthouse Audits by 100% across the board. Web Developers can sink a lot of time into trying to customize a WordPress template, adding all of the security features and making sure that it plays nice with its hosting environment, and keeping WordPress and its plugins up-to-date regularly, but they are not able to bring websites built on WordPress up to 100% across all four of the audited categories: Performance, Accessibility,
Best Practices, and SEO.
Not only can WordPress websites be tedious to keep up-to-date but outside of superficial design changes, it's difficult to modify WordPress templates, especially their canned layouts, without a more advanced Web Developer.
What's better than not having a website?
While DIY Website Builders offer freedom of design with limitations in functionality and scalability whereas WordPress offers a user interface for managing the content of a website (with the intent of eliminating the bottleneck of requiring a technician to add or update website content) both solutions do not produce a professional result.
Having a website isn't always better than not having a website, especially if the website is difficult to navigate, doesn't display consistently across different types of devices, or is chock full of vulnerabilities and memory hogs.
In the case of DIY Website builders (ideal for a starter website for a mom 'n pop shop or a small business or organization) these solutions may be a cost-effective approach, but how much time getting sunk into learning how to become a web designer will eventually outweigh the cost opportunity of hiring a professional?
In the case of WordPress, how many times should an old (and most of the time unnecessary) plugin cause your website to stop working, or even worse, how many times should a WordPress website be hacked before it has cost more business opportunities and headaches that would have been prevented had the decision makers invested in a custom or proprietary solution instead?
Building Better Websites
DIY Website Builders and WordPress websites not only bring down the value of the website industry by diminishing quality and eliminating uniqueness but they also make it increasingly difficult for professional website design and development companies to compete by bringing down the overall perceived cost of website design and development, making it more difficult for the uneducated client to understand the value vs cost comparison between custom websites or proprietary solutions and DIY Website Builders or WordPress websites.
There are many good reasons why DIY Website Builders are so cheap in cost, and why WordPress "Web Developers" are a dime a dozen (and why most "fly by night" website companies build WordPress websites). Professional Website Developers and Agencies should strive to educate their clients and prospects on the differences between DIY website builders, WordPress and other open source website platforms, and custom websites / proprietary platforms and advocate for their clients to save time, avoid headaches, and make good investments in their clients' marketing and technology goals.
Can you spot a WordPress website when you see one?